Hut-to-Hut Hiking Trips
An extensive network of comfortable, manned mountain huts connected by well-maintained trails is a unique feature of the Alps making them a hiker's paradise. In a hut-to-hut hike, you walk along an itinerary planned by MONT Trekking in advance, and you stay overnight at mountain huts that provide accommodation, boarding and warm showers. Having these services arranged, you do not need to carry excessive luggage when hiking multi-day in the Alps. Hut-to-hut itineraries vary in length and difficulty. On most routes, you can choose to be accompanied by a mountain guide, or you can hike self-guided, i.e. without a group or a guide. At MONT Trekking, we take care of your itinerary, hiking schedule, hut reservations, logistics, maps and provide 24-hour emergency support.
The classic Alta Via 1 from Lake Braies to Belluno and its shorter 9 and 10 day variants. You will see the major highlights of the Dolomites including the Lagazuoi massif, Cinque Torri group, Monte Pelmo, and the Civetta and Moiazza massifs. This itinerary follows normal hiking trails without via-ferrata and is suitable for hikers with a good level of training.
It is a classic hiking route in the beautiful Dolomite mountains framing Cortina d'Ampezzo. These mountains are acclaimed as one of the most visually stunning and frequently visited regions of the Alps. This fascinating itinerary takes you to the famous Dolimites landmarks Cinque Torri, Tre Cime and Lagazuoi.
This High Route takes you through the sunny southern offshoots of the Pennine Alps from Monte Rosa through Matterhorn and Grand Combin to Mont Blanc. It features sweeping panoramas of the inaccessible snow-covered peaks of the main Pennine ridge are sure to impress even the seasoned mountain hikers who have seen it all.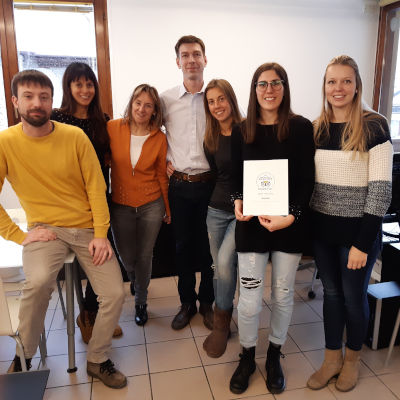 Welcome to MONT Trekking
MONT Trekking is a specialized organizer of hiking tours in the Alps. We are based in the Italian province of Trentino on the border between the Dolomites and Ortler Group, and we are a licensed tour operator under the Italian law. We offer private guided and self-guided trips in the Dolomites, Rhaetian Alps, Graian Alps - Mont Blanc, Pennine Alps – Matterhorn, and in the mountains of Lake Garda.
MONT Trekking is rated 5 stars in TripAdvisor, Facebook Reviews and Google Reviews for the friendly, timely and knowledgeable customer service. We are proud of this, and we work hard to make sure our guests enjoy their hiking holidays rather than worry about the arrangements, logistics and directions.
Hiking Destinations
The Alps feature an extremely varied naturalistic environment and geology. In combination with manned mountain huts and well-maintained trails, it results in countless opportunities for hiking. At MONT Trekking, we organize hiking trips in some of the Alps' most characteristic mountain groups. We plan our itineraries and select base camp locations so that our guests enjoy hiking in impressive landscapes, stay at good mountain huts and inns, enjoy traditional local cuisine and rest comfortably at selected base camp hotels. Local expertise lets us design off-the-beaten-path itineraries even in the most famous mountains, such as the Dolomites. In our work, we assume our guests value the unique experience. Thus we prioritize itineraries featuring something unique, for example landscape, nature or solitude.